| | |
| --- | --- |
| Posted on September 30, 2016 at 10:25 PM | |
Oh my gosh! Seriously? Is it October already? Where the heck did all of September go? Good lord!
Anyhow.. moving on. So let's talk about this month. Let's start with it being the month of October and it being the month I take my family vacation. So sadly the studio will be closed from Oct. 15th-30th. I will still be available via email and through Facebook, but please be patient and dont get upset if I don't respond right away. I promise I will within a few hours at most, but I will be enjoying time with my family that is truly needed, and soaking up some beautiful sunshine as well 
Ok, on to the important stuff! So as you all know (hopefully) I have started a new Friday class called Sip and Stretch from 7-8:30 pm. I will be offering it for the first two Fridays of this month, Oct 7th and Oct. 14th, and see how they go. Consider these like pilot classes. I will send out an email after and see if they are something you'd like to keep going weekly or maybe just a special class once and awhile, or not at all. No harm if not and we can go back to regular Friday night classes. Keep in mind, you don't have to sip while you stretch. The choice is yours as always. No pressure here
 ;)The night is all about being out with your friends and laughing and a little bit of yoga in between. It's about learning you can still have fun even though you are working out. You never know... this Friday night group might become your tribe and help motivate and push you to keep going or even coming to a different class and try something else.
Speaking of different classes...Let's talk about the other new class that's being added starting November. Im still not sure on the name yet and I only had a couple names given for the contest (held on the Facebook page) so I will happily open that up again to win a free class. So post your names to Facebook this month and I will choose one and announce it by the 31st. Contest is open to everyone ages 8+. So what's this class all about? Well who hasn't heard of SUP Yoga? It's basically taking a paddle board out on the water and doing yoga on it. As much as this is amazing, ( I mean really.. what is more ideal right? The beautiful scenery of a lake combined with the serenity of yoga) sadly summertime is really the only time to enjoy it. Until now! I worked most of the summer with the hubby designing a board that would work for everyone at all levels of yoga and they are finally finished and ready for you to test it out! In these classes you'll find that you'll be moving a bit slower to keep your balance which means more core work, balance work while bringing more focus to your breath with movement and poses and will require more concentration. Even if you are a beginner you can do this! It sounds harder than it is, but really... have a little more faith in yourself! You can do anything you put your mind to. You're pretty amazing you know 
So next thing on my list of things to let you know what I've been working on is my very first workshop! Say what? I know right? I'm pretty stoked about it. So what's it about you ask? Well this workshop will be about dealing with stress, anxiety, depression and PTSD. There will be a full 1 1/2 hour yoga class designed to help ground you and release unwanted stress, an introduction to body tapping (also known as EFT - Emotional Freedom Technique) to help ease moments of stress and anxiety. Body tapping is an alternative treatment method. It is based on the system of acupuncture or Chinese Energy meridians in the body and uses knowledge to stop the fight or flight process by sending calming signals using the tapping technique to the brain. We will go into this in more detail and how it's done at the workshop. I will also talk about some essential oils on how to use them safely, different blends and their uses. We will also be taking time to make our own aromatherapy nasal inhaler with your own choice in blend as this will be something you will take home with you. We will end the workshop with a nice relaxing guided imagery session. So all in all it will be about 4-5 hours long and it will be held on a Saturday. I'm still looking into other options for places as I would prefer a little more space than my studio has to offer so more people can attend. If this is something you would be interested please reach out to me and let me know. This is not only something you can use to help yourself but also your children if they show signs of anxiety, stress or depression. I'm thinking about holding it near the end of November and there will be a cost to attend. Price is unknown as of today and will depend on where it will be held. If the numbers are 10 and under I will hold it here but if it's over it will have to be held else where.
I will also be sending out a questionnaire/survey via email and would really appreciate it if you could take the time to fill it out. I could really use the feedback and would like for you to get the most out of the studio you can. Please be honest and don't be afraid to voice your opinion. I won't get offended I promise. I need this information to help me be a better teacher to you and to make the studio into the best it can be, and I can't do that unless I have your help. So thank you in advance for taking out your time to do so:)
Alrighty on to pose of the month. So this month I'd like to focus on balance and concentration so what better pose to help us with this than Tree pose I hope there was no groaning or shoulder slumping haha. Seriously, this pose is great for so many reasons. It helps to strengthen your abdominals, hip abductors, shoulders and even your concentration while stretching the hip abductors and the latissimus dorsi (the broadest muscle of the back)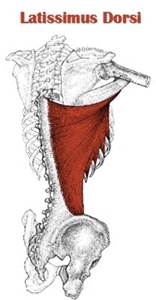 Now getting into the pose. Balance on one leg. Bring the opposite foot onto your standing ankle, calf or inner thigh, avoiding the knee joint. Bring the palms together in prayer position. Lift up through the crown of your head while firmly rooting through your standing foot. Contract your abdominal muscles and level your hips. It may help to visualize yourself as a tree, rooting down through your standing leg and then expand your arms outward and upward as if they were branches. Play around with your arm and feet positions until you find a steady place. If you feel you need some modifications to help more with balance, place the toes of your raised leg on the mat and rest against the side of the ankle (and/or stand next to a wall for support) Use caution if you have knee concerns.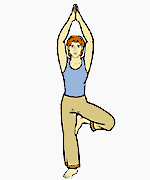 Happy Tree Trekking!
Now on to the snacking section.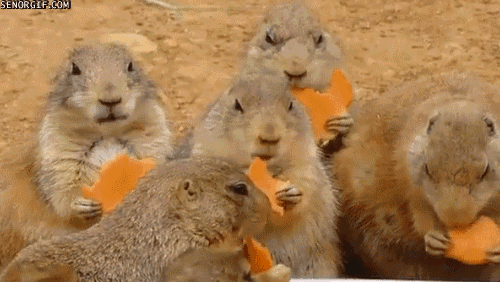 Hmmmm... What shall we try this time? It's October and it's pumpkin everything, so how about we jump on the band wagon shall we? So ya.. you can assume this isn't the most healthy and nutritious recipe, but it's easy, fast and yummy. Oh! And guess what? It's only 2 ingredients. I know.. intriguing right? Well now that I have your full attention let's make some super easy pumpkin muffins. As promised you'll only need 2 things to make them
1 box of Betty Crocker Vanilla Cake Mix (what I've used since i've been making them)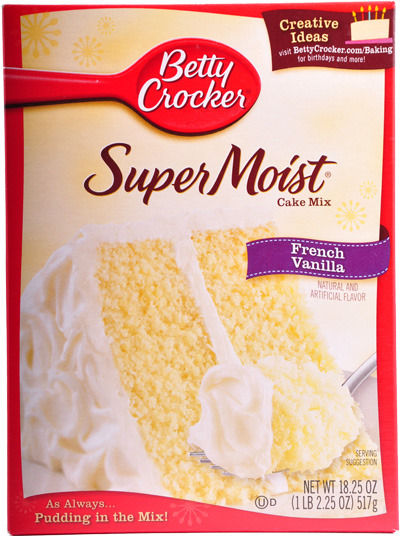 1 can of Pumpkin Puree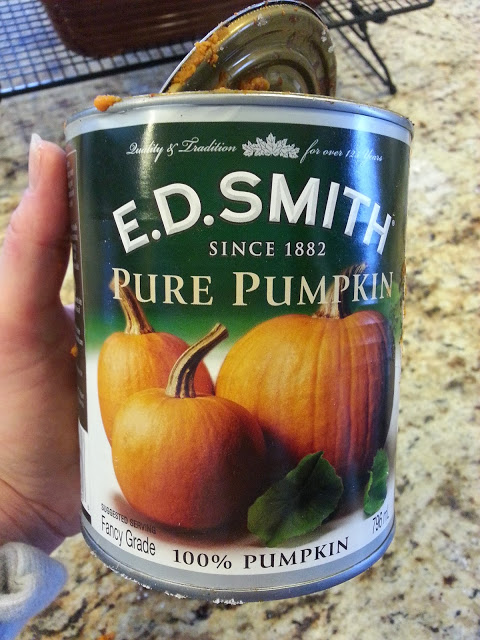 Pre heat your oven to 400 degrees. In a bowl mix the 2 to together (I use my stand mixer) Grab a muffin tin and place in some muffin liners. Divy out the mixture between each liner and bake on middle rack for about 20 minutes. You can insert a toothpick to check if they are done (comes out clean they are done) Let them cool on a wire rack.
If you would like a bit more sweetness added to them feel free to sift some icing sugar over the tops ( I usually do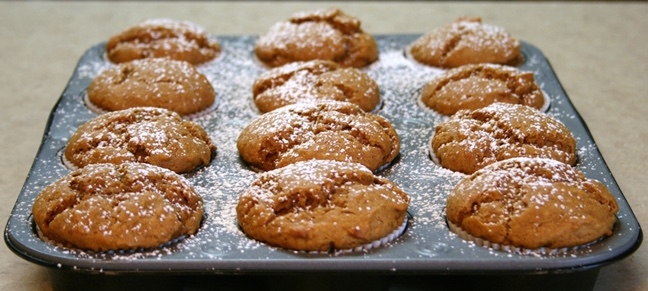 Mmmmm... so good. Get snacking people!! And if you are anything like me this will be you after you've had one too many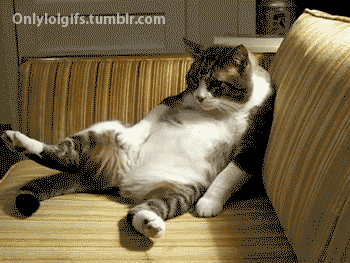 Well, that's a wrap my friends. We've reached the end of another newsletter. I hope you've enjoyed and I hope you have a fabulous month and a Happy Thanksgiving. See all of you amazing people soon and hopefully in class 
XOXO Shannon Hawman 
Categories: None
/