Well hello there strangers! So let's just start off with stating the obvious shall we? It's June! ummm what happened to May? Yep..I missed last months newsletter sadly
and for that I'm sorry. Life has chosen to be crazy busy over the last little while and I'm struggling to keep with the pace and as I look to the months ahead..it's probably going to continue. I will try and do my best to make sure I keep this this up as I love writing to you all. With summer just around the corner and everyone enjoying all that vitamin D, I hope that everyone finds ways to keep up with their practice and let's not forget make it to class too!!
So just a heads up, I will be closing the studio for the first 10 days of July. Sad, I know
but I will be going out to PEI to visit my mom! She decided that the time was now to do what she's been wanting to do for years. Life can be pretty incredible if you have the courage to jump right in and live the life you've been dreaming of. I'm glad she's enjoying her new life out there and I can't wait to get my butt out there and get her doing some yoga out by the ocean with me. So kudos to her and to everyone else who has the courage to jump. Never be afraid to follow those dreams or yours, because usually that's where you are suppose to be and life will always create a path (perhaps many) for you to get there. You just have to be willing to to follow it. I followed part of mine almost a year ago and opened the studio and over the next few months I will be chasing a few more! Adding a yogafit for warriors program for adults (military, DoD civilians & families who serve our country) who struggle with PTSD and TBI. Also a warrior kids programs for those dealing with trumatic events like divorce, violence, bullying and physical or emotional abuse. Eventually I will be adding more to my list but I think covering a few for now will suffice and I get to cross them off my list at a manageable rate.
Do you have a list? Are you already slowly knocking them off your list? I'm learning that if they are written down there is some accountability there. Write them down in your agenda, or use post it notes or even write them on your bathroom mirror (of course using a dry erase marker). Anywhere that you can see them all the time so you know that you are working towards those end goals and keeping you motivated to keep truckin' forward. You'll get there
So on to the pose of the month. Let's focus on the Seated Forward Fold.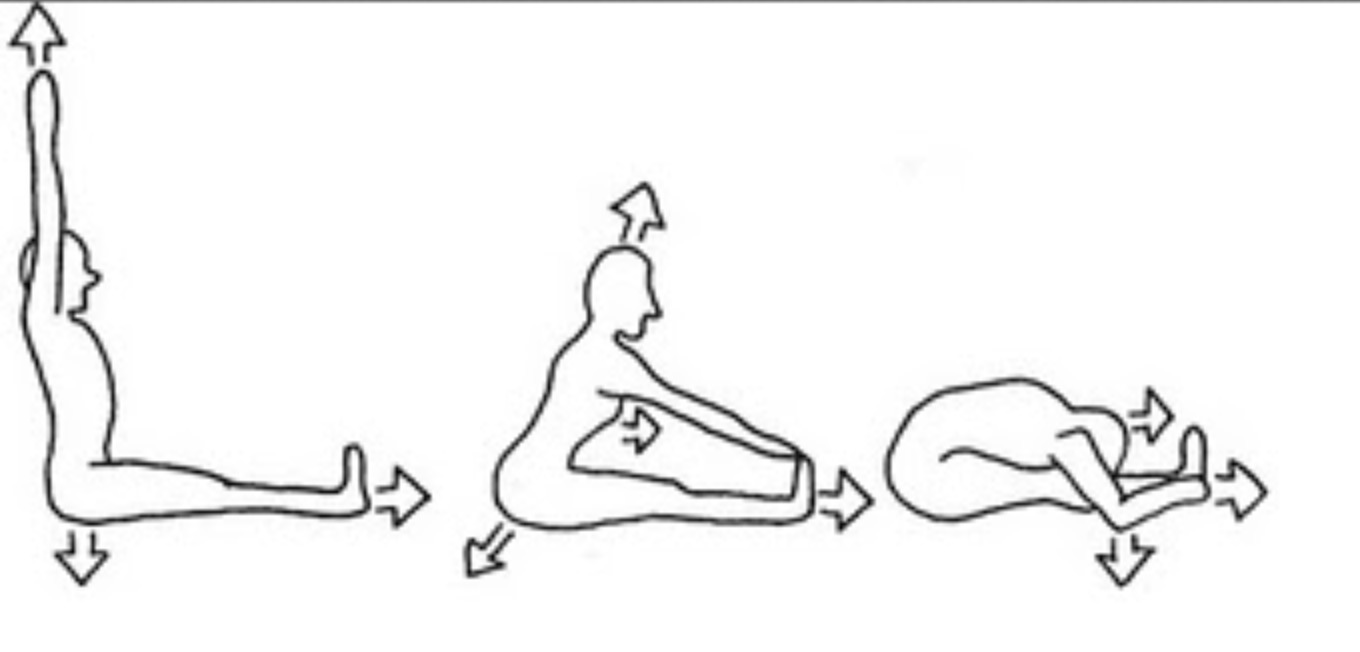 Inhale, lift the arms and reach. Exhale and reach the arms forward
This pose is often used as a benchmark for flexibility. Some people often tend to become competitive, grab their feet and pull themselves forward. This causes harm to the lower back and does nothing to lengthen the muscles. Listen to your body and let go of expectations, judgements and your competitive spirit. With that said, here's how to get started. Begin in a seated position and extend your legs out in front of you. Flex your feet and inhale reaching your arms upward, then exhale and reach your arms forward, placing your hands on your legs, ankles, feet or even on the floor. Draw forward through the top of your head, using your abdominals. Try using a longer exhale than your inhale to help you gently deepen your stretch. This breathing technique is called Sinking Breath. Remember to reach forward with your chest and the crown of your head and relax your shoulders back and down.
This has to be one of my favorite poses. It's such an amazing stretch for both the legs and the lower back. I find myself doing this pose the most in my everyday life. But remember it's not about being able to touch your toes, it's about the whole journey you take getting there.
So moving on to the food section finally.... This month we're going to make a Power Fruit smoothie. Smoothies are always a great quick snack and can be packed full of goodness. It can even be used as a meal replacement or just a refreshing treat on a hot day. To me....this is just plain awesome.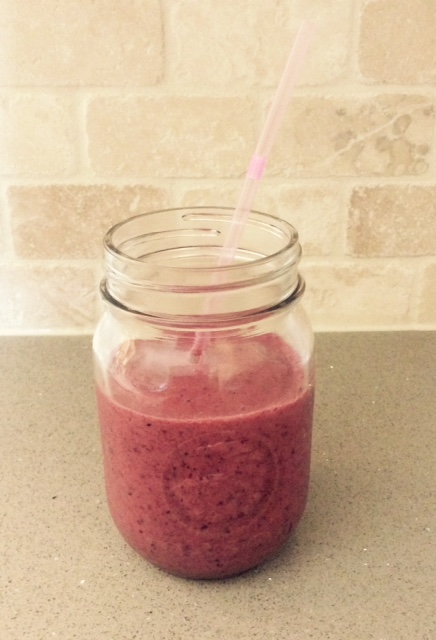 Mmmmmmmmmmm
Here's what you are going to need:
1 cup Power fruit frozen fruit blend
1/2 a banana
1/3 cup vanilla or plain yogurt (or any kind you'd like)
1/4 cup cold green tea or water (both are good options and i tend to choose according to energy levels)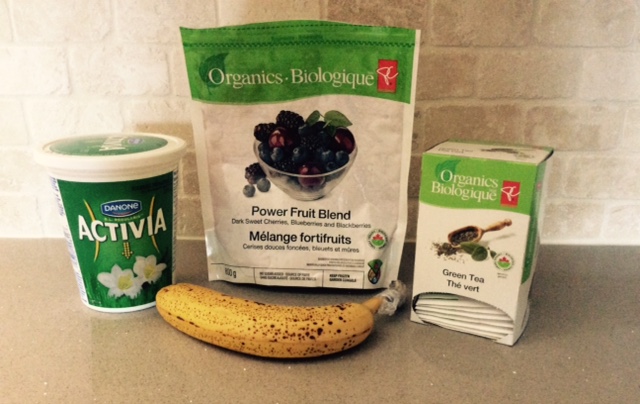 Lablaws has a great organics section
Now the following additions are optional but I use them almost every time
1 tsp Salba
1 scoop vanilla protein powder
1 small squirt of honey for a touch of sweetness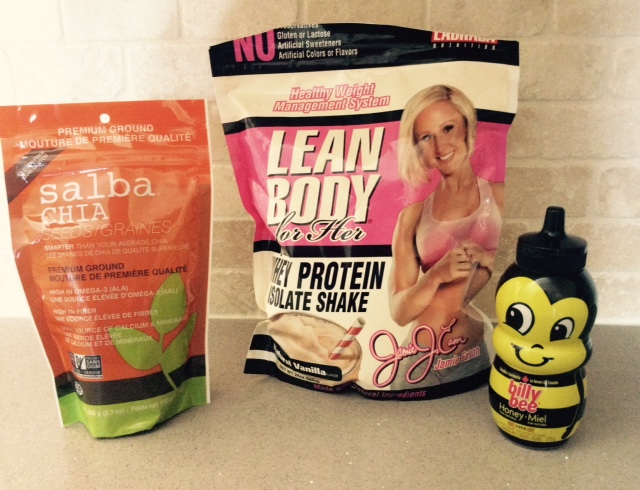 Salba, Protein Powder and Honey
Put everything into a blender and blitz.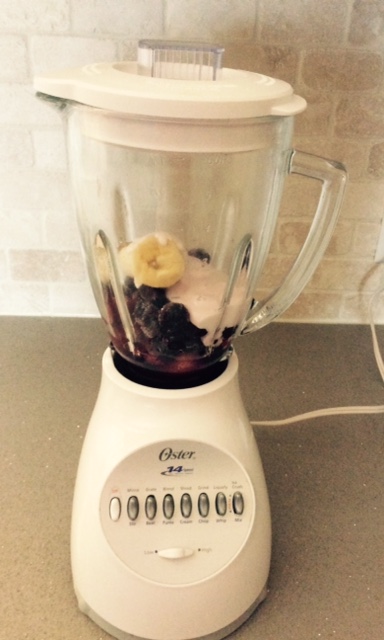 Get ready to blitz
Grab your cup of choice, pour and enjoy! It's so simple and yummy and only takes a few minutes. Now who doesn't love that??
This is my go to after a class, run or bike ride. Best yet..this is one of my kiddos favs as well and I'm always more than happy to make it when she asks. She's choosing the much better option than cookies or other junk and that my friends is a huge feat in our house!!
Well my friends, we have reached the end of the newsletter this month, but be ready! I'm going to challenge not just you but myself as well next month. In the words of Scooby Doo..... Rraah Rroooh!!!! It's all good haha We'll get through it together I promise.
So until next time... remember to tell yourself you are amazing, beautiful and strong (for the men hopefully reading this.. You are awesome, handsome and strong too! and you should join in on some classes) and I hope to see you all in class soon.
Shannon Hawman
xoxoxoxo
My Oh My have I missed all you beautiful yogis!! I hope everyone had a great March Break and had a wonderful Easter weekend. I can't wait to get back to class and see you all again. Vacations are always great and I love the family time but I always tend to slack on my practice, thinking I've got all day. But some how that day doesn't seem long enough and you miss it, and think oh well...I'll do some extra time on the mat tomorrow to make it up. Oh look! That's what I said 5 days in a row.. Ughhh....I'm just thankful we stay active doing so many other things in the meantime. I do always end up appreciating my time on the mat that much more when I do miss a few days. It truly helps calm and center myself. Yes...even on vacation I still need haha maybe even more so than normal since at home I'm on the mat everyday
My point is..... yes, even then teacher can be quite the slacker lol.
So... how many of you who missed February's gratitude journal try it for March? Anyone??
(insert singing crickets here)
Oh well, can't blame me for trying, can you? I will just say if you haven't, please try it at some point even if it's just for a week. I swear it won't take more than 5 minutes, and it's a great happy eye opener . And done... that's the last time I will bring it up
Anyways... This is a big month for The Yoga Cottage. After months of planning, then let downs, then more searching and planning and many, many emails, I'm happy to announce that the Cottage is going to have it's very own clothing line!! So exciting right?? We are starting the line off small with 2 different styles of tank tops. One is fitted and the other is a nice flowy tank. There will also be a t-shirt available as well as a nice zip up, hooded sweatshirt that's embroidered.
As Henry Ford once said "Any customer can have a car painted any colour that he wants so long as it is black." This is also true for the first round of clothing haha You can have any colour you want as long as it's black .... for now.
I hope that everyone likes the final product. It will all be available at the beginning of the month and I will be posting photos of each item available on both the website and the Facebook page.
If you are ever in need of t-shirt printing , Trish @ www.creativepromotionalwear.ca is amazing and I can't thank her enough for making this process what it should have been from the start, Fun and exciting! They have great prices and their costumer service is above and beyond what you could ask for.
So now that I've rambled on and on shall we proceed to the pose of the month? Yes, I think we should indeed.
This month let's bring out the warrior goddesses I know we all are with Warrior I pose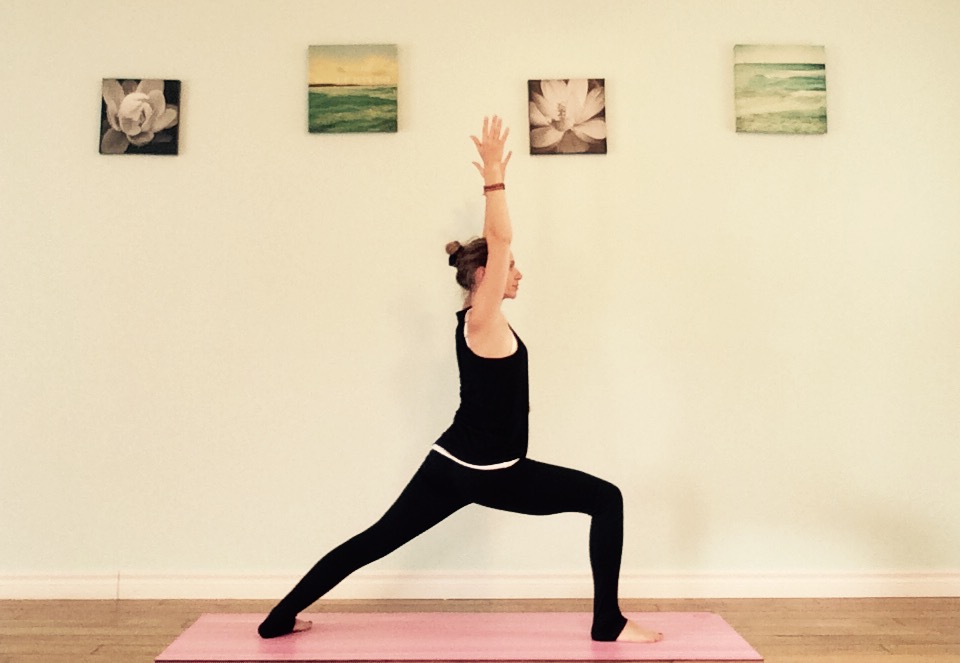 Warrior I
Start in Mountain pose. Step back with you right leg and align your heels (picture a straight line from heel to heel) Bend your front knee (left) stacking it over your ankle. Straighten your right (back) leg, turning your toes slightly forward. Square your hips and shoulders with the front short end of your mat. Inhale and raise your arms to the sky. Continue to press the outer edges of your back foot into the mat. relax your shoulders and engage your abdominals as you lift and stretch your upper body and sink into your forward bent leg, keeping the knee over the ankle.
If you'd like a little more for the arms, let's picture the goddess of the hunt Artemis (daughter of Zeus in Greek mythology, Read up she's awesome). Flex and extend the left arm out in front of you and pretend you're holding a heavy bow. Using the right hand, reach back over your shoulder and grab an arrow, place the arrow in the bow and pull back using all your muscles in your arms (remember there's resistance) and hold waiting for the right moment to release the arrow. Shoot up to the moon and then grab another arrow and shoot in front of you (releasing the compression in the lower spine) and switch back and forth with each full breath. Deep, steady breathing with help keep you in control. Try for 5 to 10 breaths and then release switch sides.
For those that need a bit of a modification shorten the leg stance and/or slightly straighten the front bent knee. Anyone with shoulder issues, bring the hands to heart in prayer position and continue on with deep breathing.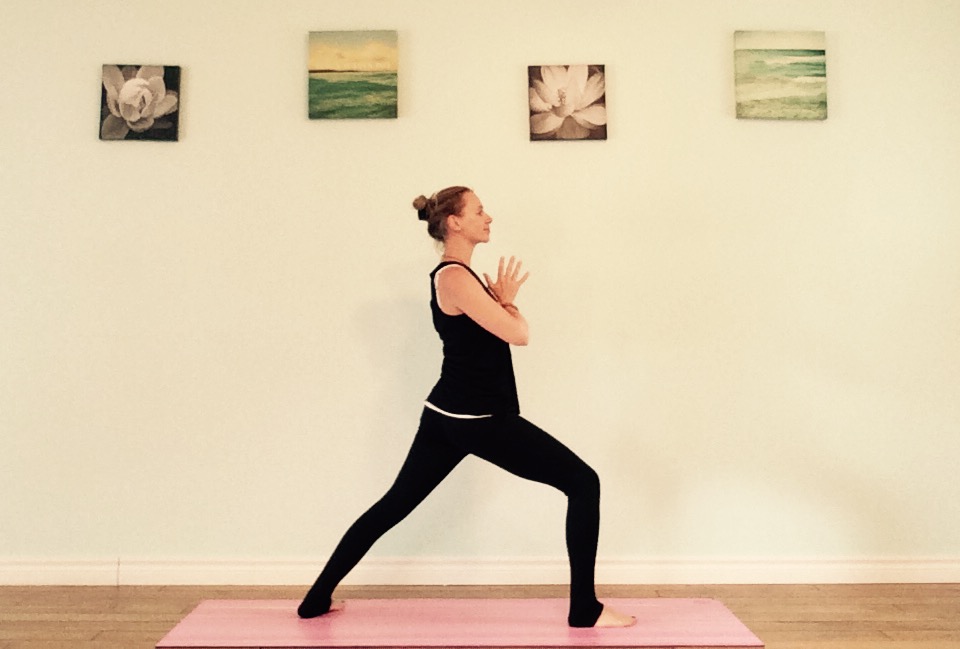 Warrior I Modified
You're all such strong, beautiful huntresses. Be proud of those strong legs of yours, they can take you wherever your heart desires if you only agree to follow. Your next great adventure is right around the corner or maybe just straight to your kitchen to make this very yummy salad
This is hands down my favorite salad!!   Isn't she gorgeous?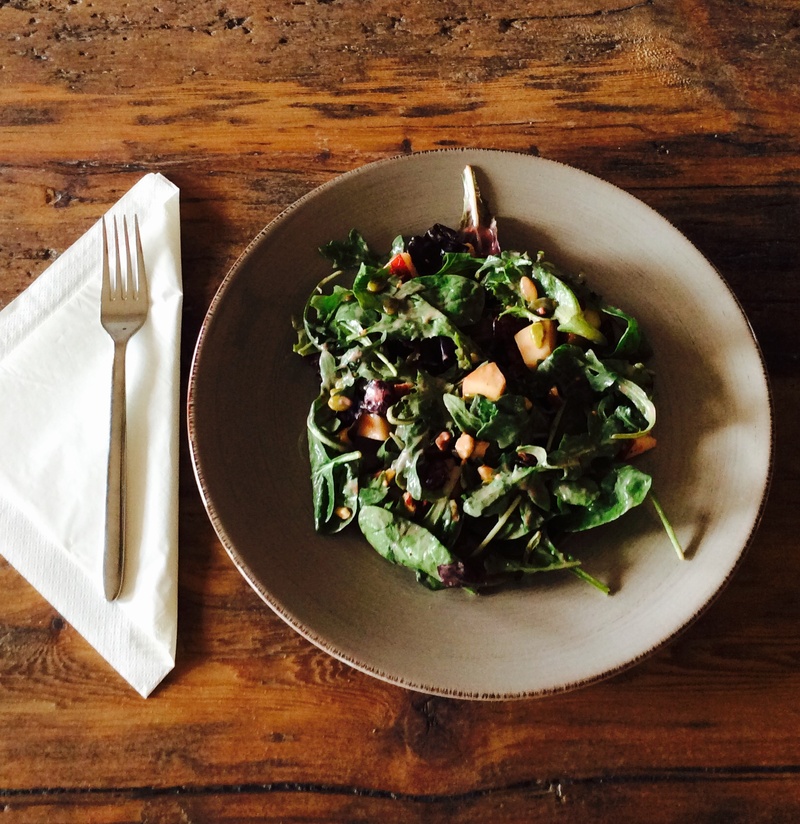 Apple and Cranberry Field Green Salad with Creamy Raspberry Poppyseed Dressing
Here's what you'll need:
For the Salad
Fresh organic field greens (or you can sub fresh baby spinach)
2 eating apples cored and chopped (I use Fuji or Gala organic apples)
1/2 cup of dried cranberries
1/2 cup sliced almonds
1/4 cup pumpkin seeds (these are optional or you can switch out the almonds for these just up the amount. These bad boys are packed full of protein so try and use both if you can)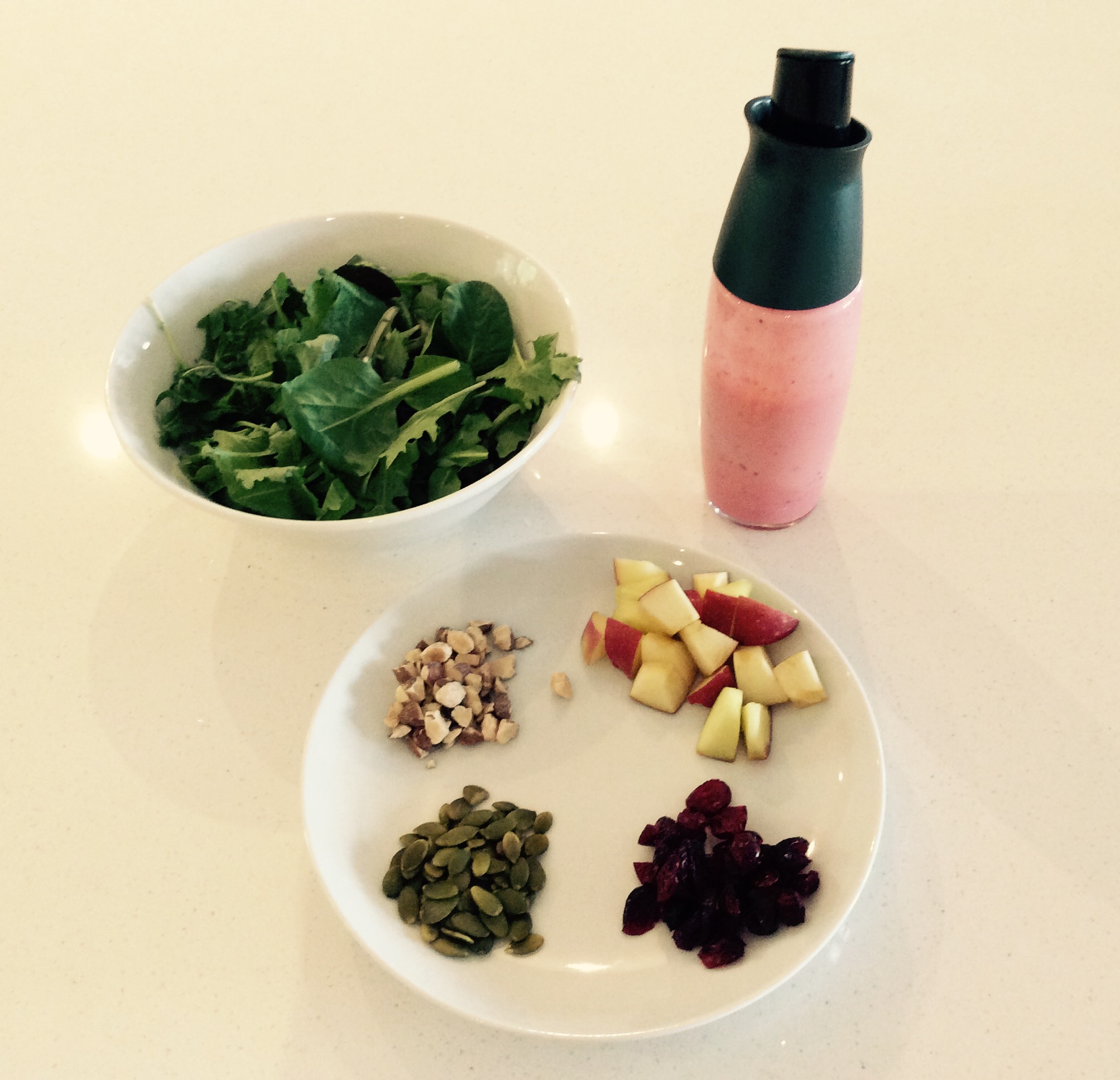 I could even eat all this separately
Toss all ingredients in a bowl and set aside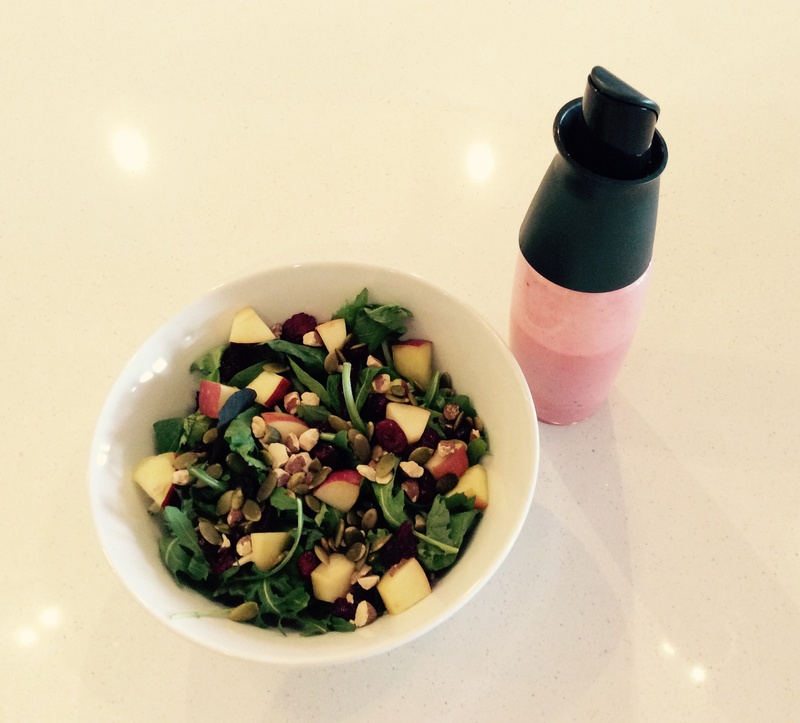 Fresh homemade dressing is amazing. Who wouldn't want to try this?
Creamy Raspberry Poppyseed Dressing
1/2 cup Mayo
1/4 cup 2% milk
3 tbsp sugar
4 tsp cider vinegar
2 tsp poppyseeds
1/2 cup raspberries
Add all dressing ingredients into a food processor or blender and blitz.
Drizzle over the salad and toss then serve.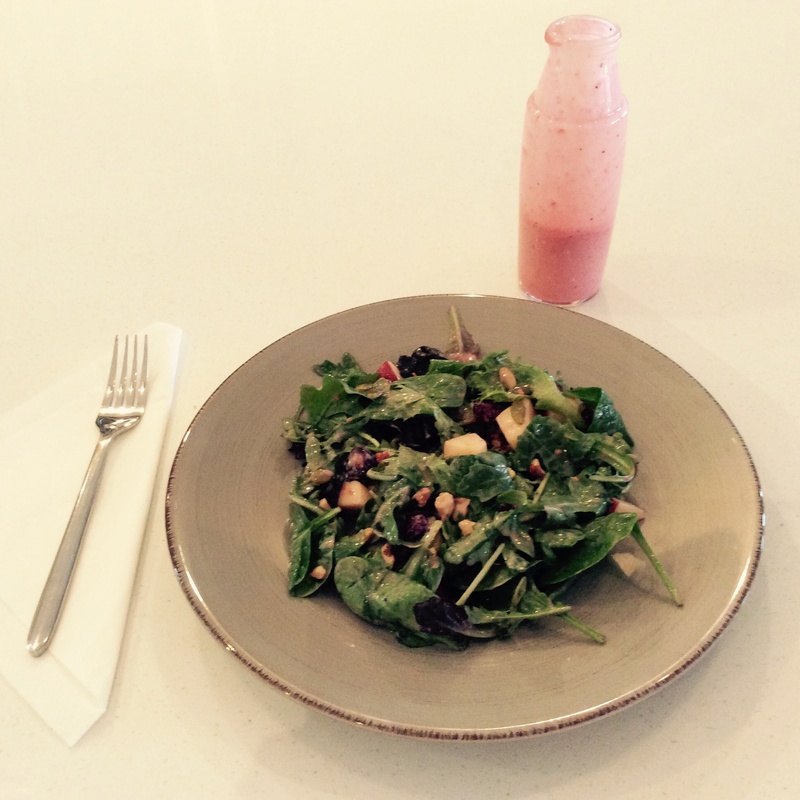 Who's ready for lunch? This girl right here
If you decide to try this out, let me know what you think! You can comment below on the blog or on the Facebook page. Let's get talking about all this goodness and help keep all the other readers motivated to try everything new each month.
Well this concludes this months newsletter/blog ( still not quite sure what I'm calling it haha) I hope you enjoyed and I will see all you Warrior goddesses in class soon. I'm thinking we all have a bit of our kids Easter chocolate to work off
XO Shannon Hawman
Hello lovelies! Well March is upon us and although it's a short month for the studio, as I take off on a family vacation (March 11th- 28th), I hope that you all can take some time this March break and enjoy it with your families and maybe enjoy a little you time
Last month I challenged you to try writing in a gratitude journal and I hope you managed to get some of it done (if you didn't I hope you try it this month, it's an amazing little thing that really doesn't take up too much of your time. Try it, you'll see! And don't over think it, just jot down a few things that made your day). So for those of you that did attempt the journal... What did you think? Did you get a chance to go back through it? Were you surprised by some of the things you wrote? Were you able to appreciate all those little things that tend to get overlooked? What else did you notice?
I hope this little challenge had some success for you, helped you stress a little less, helped you see all the good things in life that tend to get overlooked because all the bad things that happen over shadow all that goodness. And most importantly... I hope it made you happy and smile everyday even for just a moment. Hey, this may be something you wish to continue or maybe not, either way I think you see, (or for those who haven't done it yet) will see the point in the end.
So with the studio being on a small hiatus, I would like the pose of the month to be the Half Series. This short sequence of poses will help keep you moving and you can repeat the series as many times as you'd like. The first will be the modifies version and if you attend the gentle classes this series is for you.
Kneeling Half Series -Start in child's pose, Inhale up into kneeling plank, aligning your shoulders over your wrists, your hips past your knees and your back long. Shifting more forward, shoulders over your fingertips, Exhale down into kneeling crocodile. Lowering your hips to the floor, reaching back through your toes, Inhale, open your chest in cobra. Exhale pushing back into child's pose.

Kneeling Half Series - Child's Pose, Kneeling Plank, Kneeling Crocodile, Cobra
For our regular and intermediate classes the Half Series is as follows:
Half Series - Start off in Downward dog. Inhaling into plank, keeping your core strong and backs straight. Shifting forward on your toes and exhale into crocodile until your shoulders align with your elbows, hips and heels. Inhale, pulling from the core, coming onto the tops of our feet for Up dog. Exhale, pressing back into Downward dog.

Down Dog, Plank, Crocodile, Up Dog
Whew!! Running through either one of those series about 5 times gets you nice and warm. Practice a series once a week or everyday (everyday preferably) if you wish, and run through them about 5-10 times and rest in child's pose when your finished for a few breathes to relax out the muscles and catch your breath. Remember!!! Nice.... Long...Deep... Breathes. Your body will thank you for it and feel a boost of energy.
Now let's move on to the yummy section shall we?
Ya, I didn't think there would be much resistance there
So what's on the menu this month??? This colourful beauty right here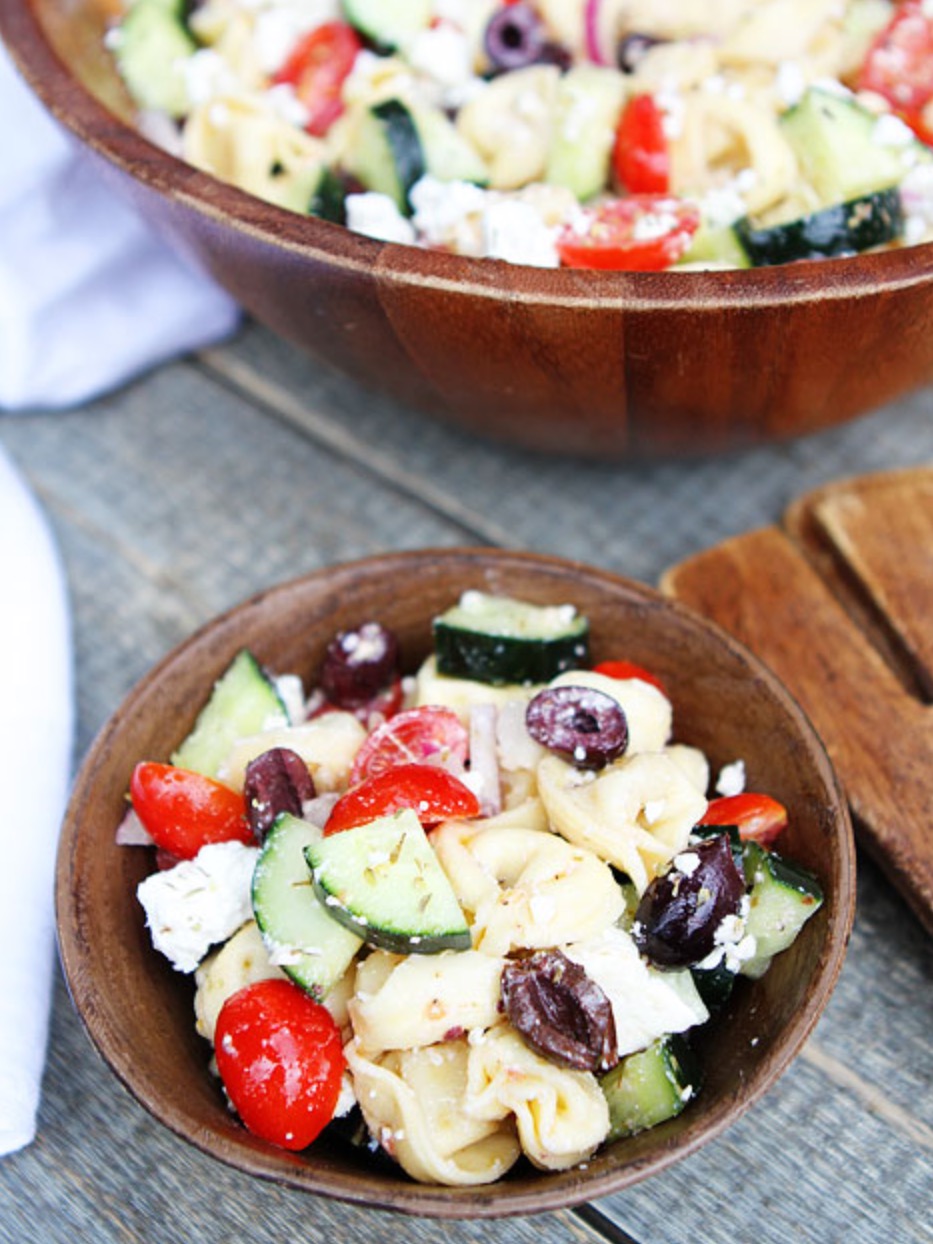 Look at all the pretty colours!!
This my friends is a Mediterranean Tortellini Salad with a homemade red wine vinaigrette. Don't all those fresh, colourful veggies look amazing?
Now this recipe calls for tortellini but you could use any kind of pasta you wish or just nix the pasta altogether. So without any further delay, here is the recipe
Mediterranean Tortellini Salad

1lb Tortellini (or any pasta you wish if you're using any)
1 Red Onion, thinly sliced
1 Pint Cherry tomatoes, Halved (you can also use grape tomatoes)
1 Cucumber, sliced and quartered (seeded if you wish)
1 Green bell pepper, diced
4oz feta cheese, crumbled
A bunch of black olives, pitted and halved (optional)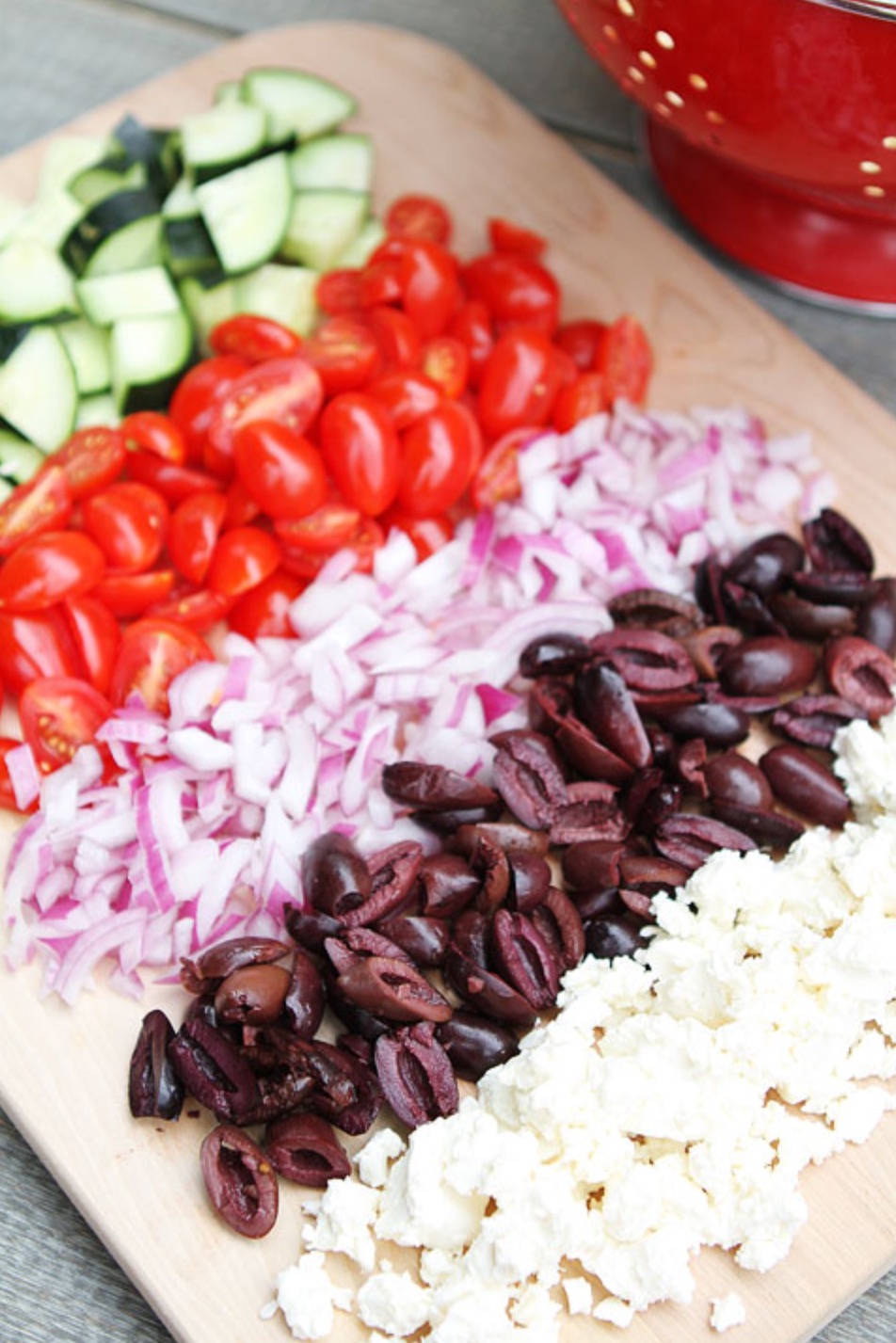 Whoops, I didn't show the bell pepper! My bad, sorry
For the Dressing
1/3 cup red wine vinegar
2 tsp fresh lemon juice
1-2 tsp sugar
2 tsp dried oregano
1/2 cup extra virgin olive oil
Salt and pepper to taste
1) Bring a pot of salted water to a boil and cook pasta according to package.
2) Meanwhile, place the sliced onions in a bowl of cold water to get rid of some of the bite. Drain after 5 mins.
3) When the pasta is cooked, toss together the onion, cherry tomatoes, cucumbers, bell peppers, feta cheese and pasta
4) In a separate bowl, whisk together the red wine vinegar, lemon juice, sugar and oregano. Slowly pour in the olive oil and whisk to combine. Season to taste with salt and pepper. Pour the dressing over the salad and toss. Serve warm or at room temperature. If you've decided to nix the pasta you can chill in the fridge and serve cold.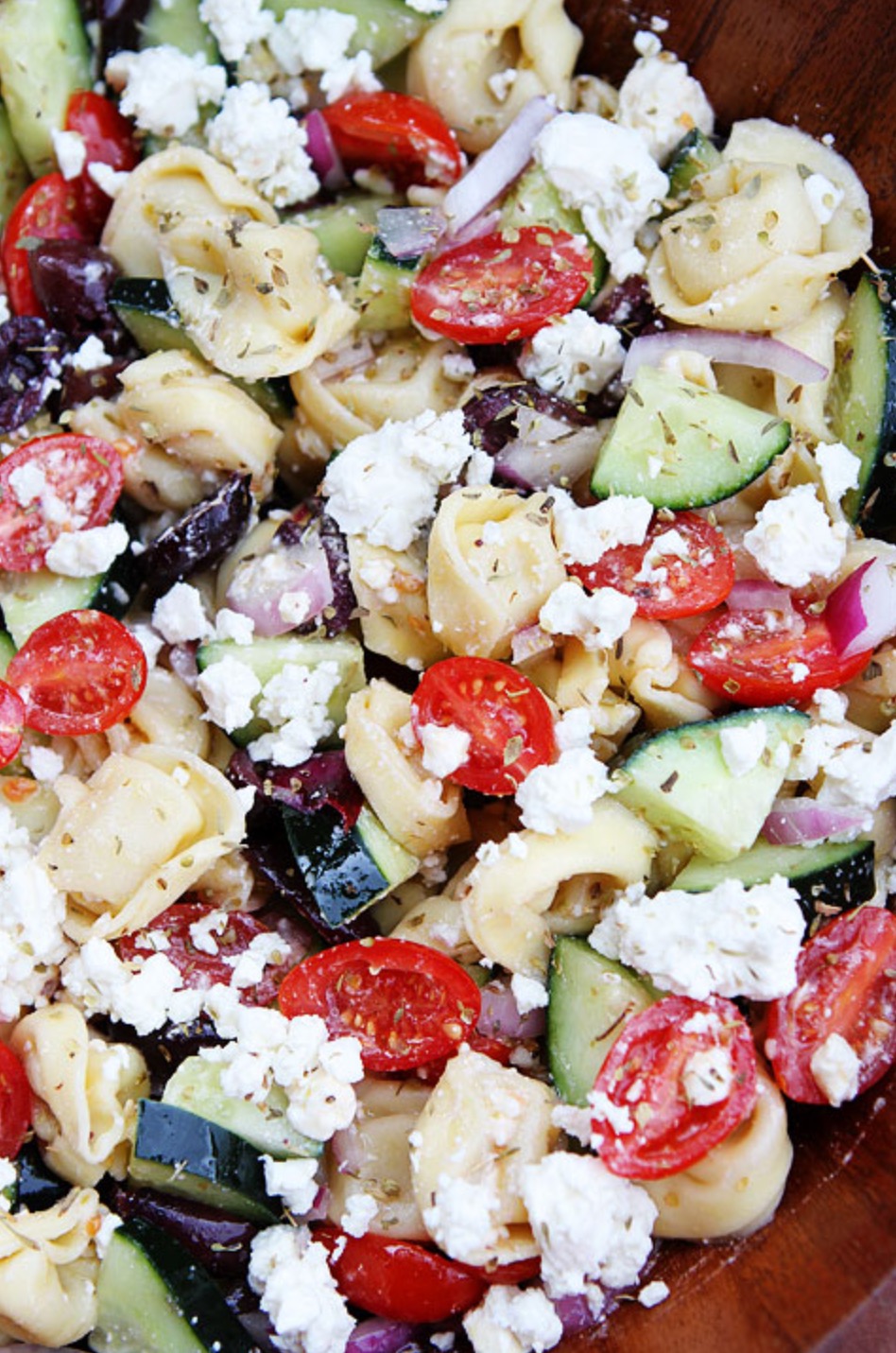 So pretty and so yummy
I love black olives and I do add them, but only to my bowl since the rest of my family loathe them with a firey passion. You can also add in strips of grilled chicken if you are looking to add a little more. It tastes great with or without the pasta. There are so many additions you could add to this salad, try making it and adding your own flair to it and let us know your results. Sometimes it's great to play with your food (sorry moms! I know you always told us not to play with our food..but look what it can accomplish!!) and try new things. Take yourself out of your comfort zone and take that leap! You never know where it will take you, but it could be somewhere great or great tasting
Well my lovelies, I hope that this month I get to see you a few times at least before I leave. Please know that I will miss all of you while I'm away and miss all the amazing laughter I hear in every class. Hopefully you find time to yourself to relax and get through the series as I will try to keep up my own practice even though it's vacation time. Hey! Maybe I will take some yoga beach poses to share next time lol Right who wants to see that!!! 
Remember your motivation is knowing that after you finish your time on your mat, you'll feel great, refreshed, and relaxed. Oh and remember to tell yourself today and everyday that you are amazing and oh so beautiful!!!
XOXOXO Shannon Hawman
PS- I hope everyone has an amazing Easter weekend and a cute fluffy bunny visits everyone. I will see you right after that with probably a few extra chocolate bunny rolls to work off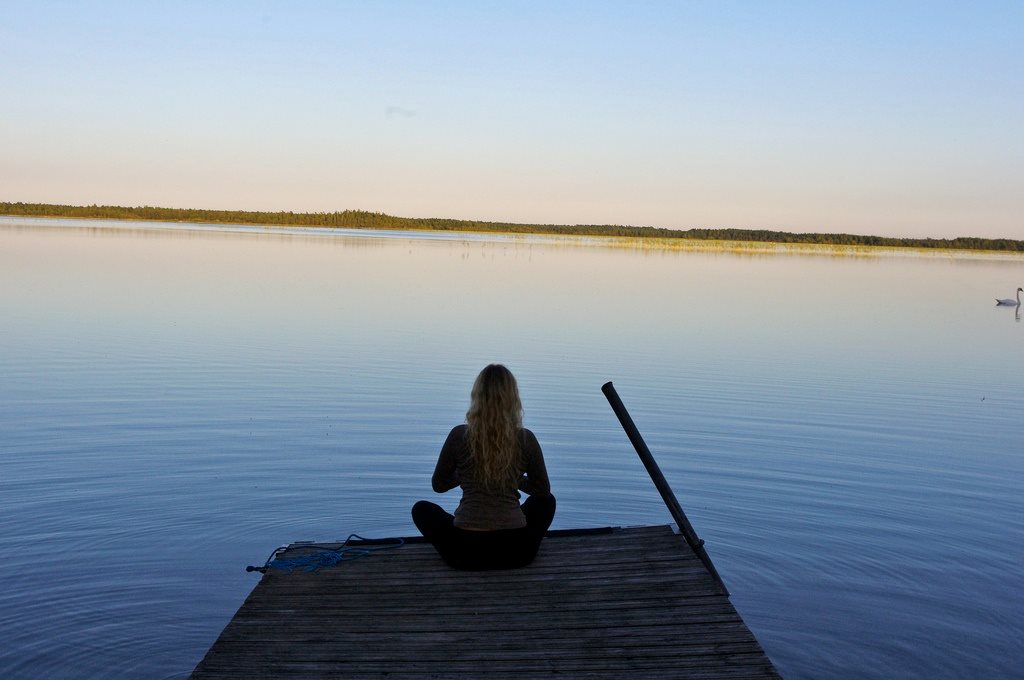 Hello again to all of you amazing, wonderful and beautiful yogis! I would like to take a moment and send out to each and every one of you my deepest appreciation in support of my little journey here at The Yoga Cottage. You have made it so easy for me to realize that following a dream is possible to reach and the journey to it is just plain awesome!
So on that note I would like to talk to you a little bit about gratitude. When we are in a 'stuck' moment, it's hard to see the positives when obstacles are blaring and fears are looming. This my friends is the best time to be grateful. Not for the things that have us 'stuck', but for appreciating all the other things. Gratitude can help us put things into perspective. When we can see both the good and the bad, it becomes more difficult to complain and stay 'stuck'.
Gratitude helps us realize what we have. This can lessen our need for wanting more. Gratitude can also help strengthen relationships, improve health and reduce stress. So in a whole, gratitude can make us happier.
Say what?? No Way!!
Well... why don't we try it out for this month? It's worth a shot right? Who doesn't want to feel happier? So here's a little challenge to see if this works. All you need is a pen, a small notebook and 5 minuets at the end of your day and write down 3 things you were grateful for that day. It could be as simple as a hug from your kiddo or partner, a long overdue phone call from a friend or even just being able to laugh today. Something that seems so small can have a huge impact on your day and we should take a moment to acknowledge it, be grateful for it and smile in thanks for it. Hopefully you'll be smiling as you lay your head down on your pillow and end your day happy.
At the end of the month, take a stroll down memory lane and see just how amazing your month was and smile at all those amazing moments you or someone else helped you create. Sound worth it? I think so.
Moving on to our pose of the month. I would like to highlight a pose that is unique to YogaFit, called Moonflowers. In this pose we match the pace of our movement to the pace of our breath.
To get into Moonflower step back on your mat. Take a wide stance and turn your toes out and your heels in like you're getting ready for a pile squat. Bend your elbows and place them next to your waist and point your knees straight out over your toes A) Inhale as you straighten your arms (palms forward) and legs B) Exhale as you squat down and bring your arms bent down by your waist. Our upper body is centered over our knees and our back is straight. Continue to move through a comfortable range of motion as your body warms up. If you have knee concerns, squat down only to a comfortable place. This pose strengthens our quads, hamstrings, abdominals, upper back and shoulders.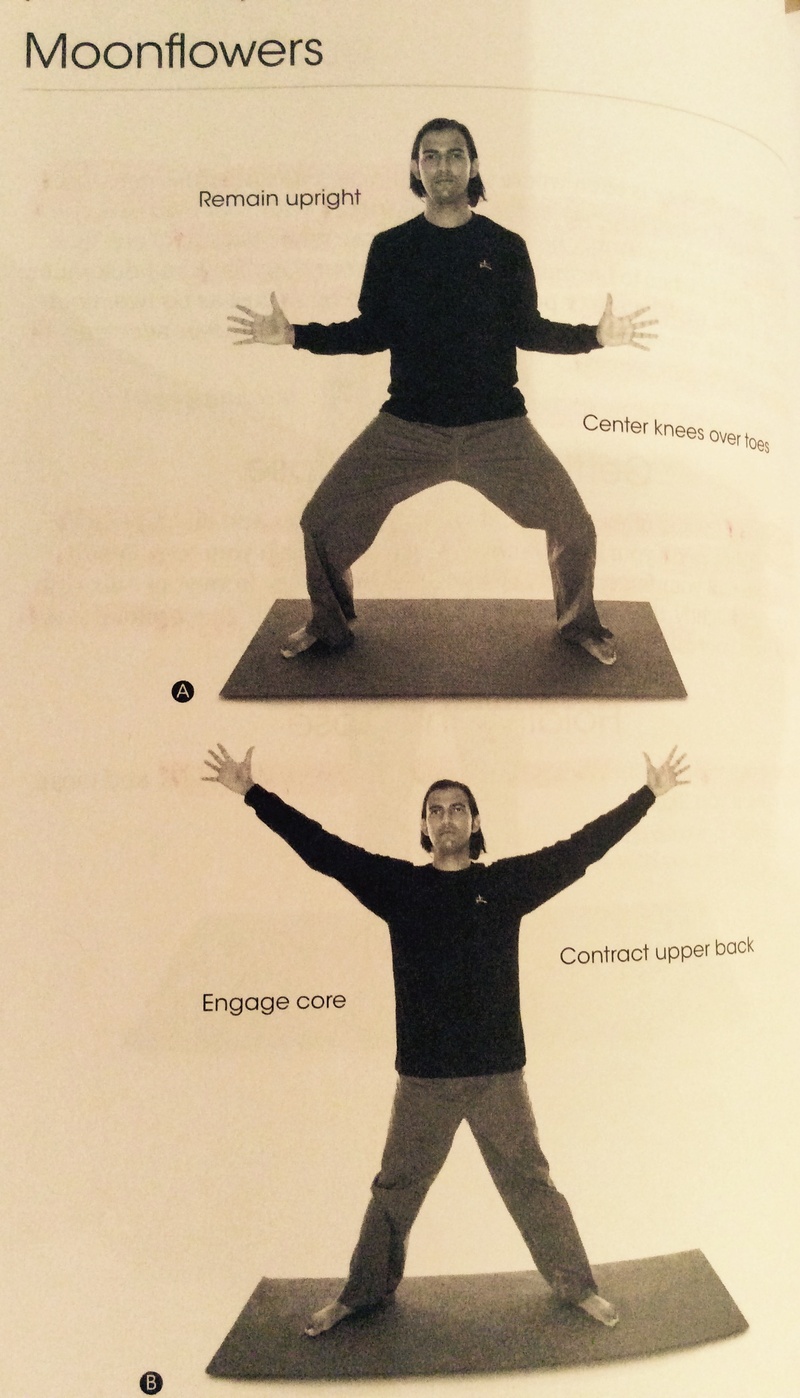 Exhale example A Inhale example B
Awesome right? I think so!!!
What's that? You've read this far in hopes of another appetizing recipe... Sorry, maybe next month I'm short on time.
Just kidding haha ( I know, that was not funny at all, and just plain mean) So what's on the menu this month? Well let's put the spotlight on Jamie Oliver and his incredible new cookbook Everyday Super Food. If you don't have any of Jamie's books you are missin' out! Not only can he make amazing food he's not too horrible to look at either.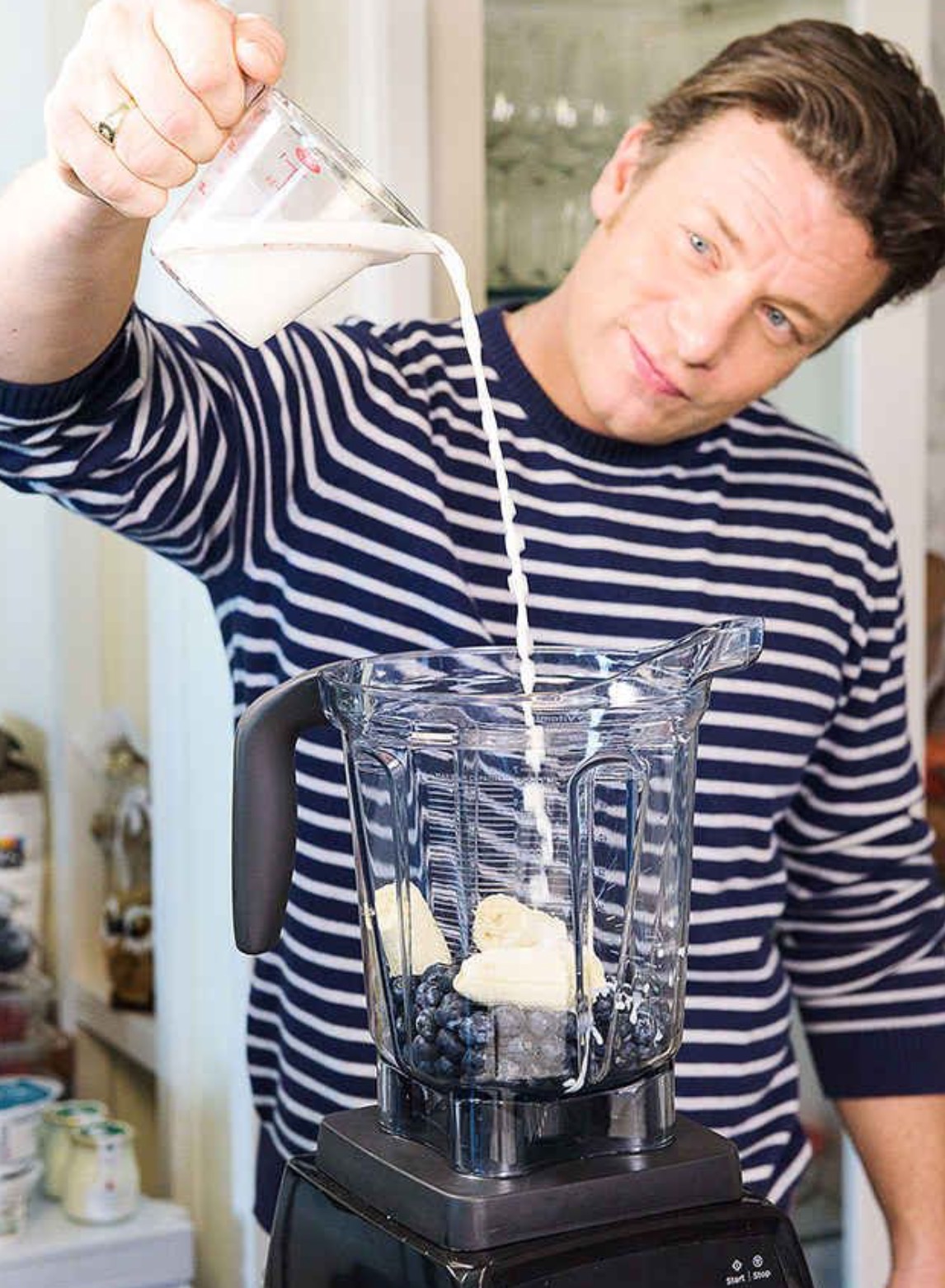 Jamie Oliver
His shows on Food Network and Makeful are mouth watering good.
Well hello there Beautiful...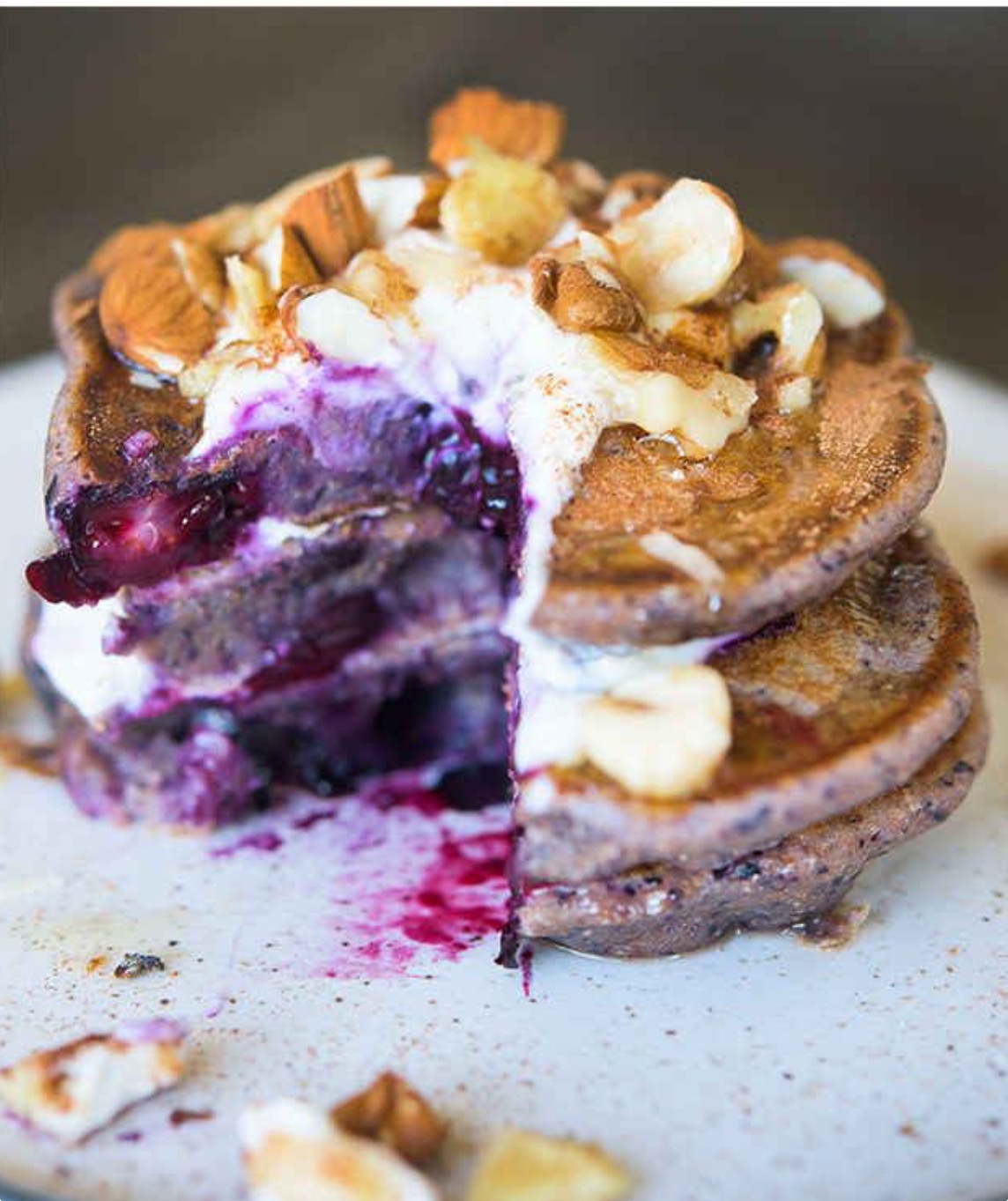 Look at all that amazing goodness!
This my friends is Jamie Oliver's Blueberry Smoothie Blender pancakes. Here is what you'll need:
A Blender
1 1/2 cups blueberries
1 large rip banana
3/4 cup 2% milk
1 large egg
1 3/4 cups whole wheat flour
2 tsp baking powder
1/4 tsp salt
Extra Virgin Olive Oil, to coat pan
Optional for garnish
1/4 cup plain yogurt
ground cinnamon
1 oz chopped raw pecans or walnuts or both
Honey
Biltz half the blueberries, peeled banana, milk, egg and flour in the blender to make a smoothie pancake batter. pour into a bowl and fold in remaining blueberries (or just keep it all in the blender for less dishes) Place a large non stick frying pan over medium-high heat ( I like to use my griddle) Pour in a bit of olive oil, then use a paper towel to wipe it around the pan to absorb the excess. Once hot put your batter into the pan. Cook for a couple mins. on each side or until crisp and golden.
Top with a dollop of yogurt, sprinkle with cinnamon and a scattering of nuts and finish with a drizzle of honey.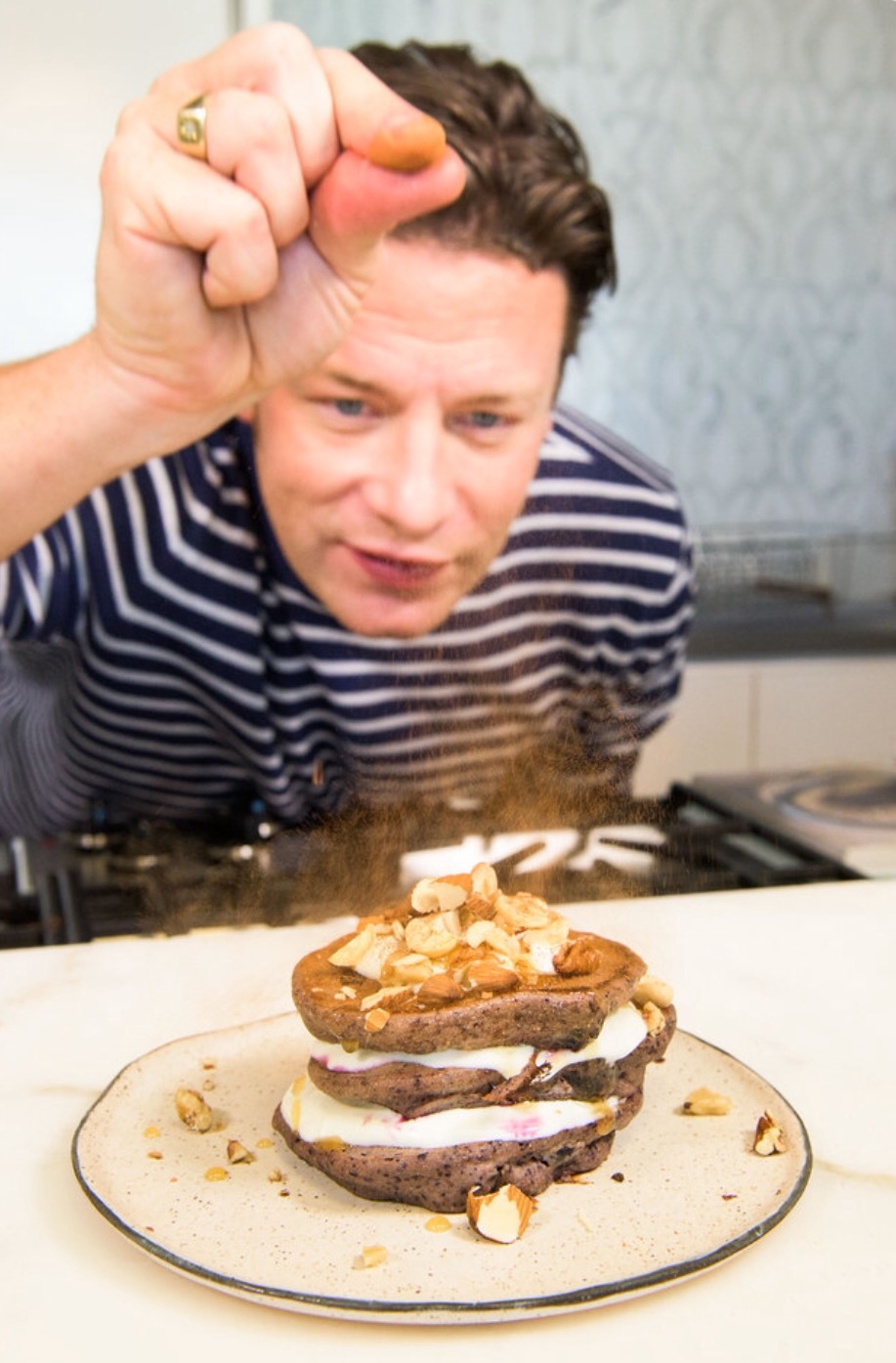 It's kind of magical to watch the cinnamon fall to the plate
Then devour all that goodness. Weekend mornings never looked so good!
Well that concludes this months letter. I hope you enjoyed. And remember you are amazing and beautiful so please tell yourself today and everyday. Until next time my yogis.
XO Shannon Hawman
P.S.- Please note that next month I will be away for our yearly March family get away. The studio will be closed March 11th-27th. I will re-open on Monday 28th. There will still be a newsletter with a special sequence for everyone to help while I'm away. Again I am always reachable through phone, text, email or Facebook for any questions, but please be patient in waiting for a response.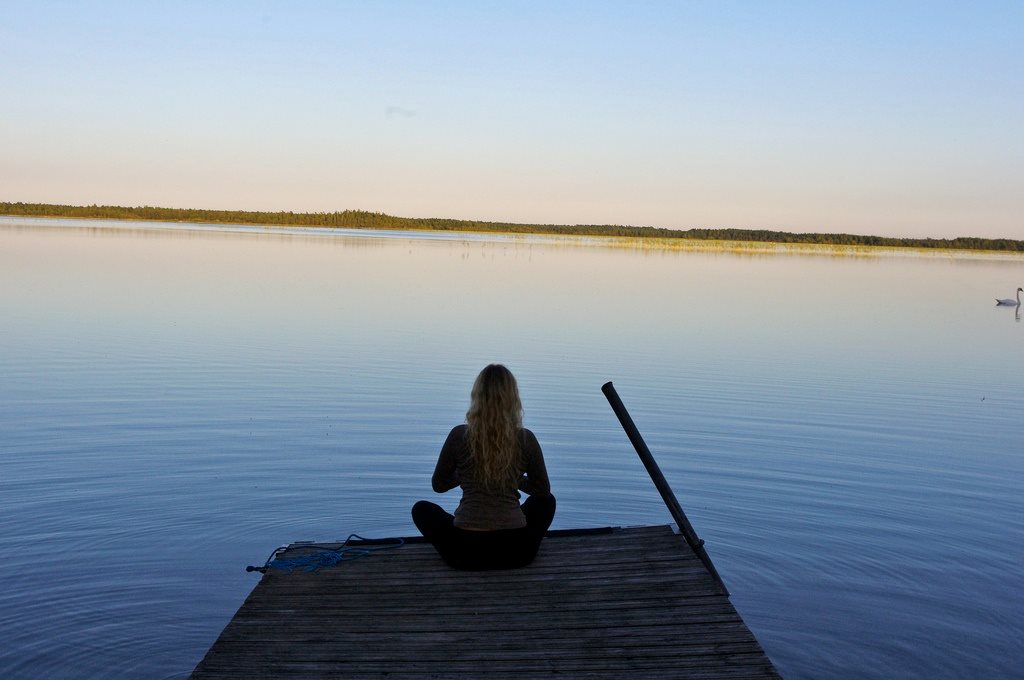 Happy New Year Cottage Yogis!  As always yoga is a powerful practice, but the gift of a new year can bring about reflection and New Year resolutions.  Its common practice in yoga to set an intention for your time on the mat. Like a new year's resolution an intention names something you'd like to attain. I'm not talking about goal setting, but aiming more of your focus on the journey itself. So a goal might be to loose weight but your intention will be how to get there (eg: taking a yoga class once a week
) Start small and build to something bigger.
I read this amazing book called 'Living With Intent' by Mallika Chopra & Deepak Chopra last year while struggling to even attempt a meager endeavor at a meditation practice LOL  My mind is always racing and never wants to shut off 
  This book helped me learn to start slowly and if all I get is 5 minutes, Hey guess what? I got 5 minutes! It's a great read if you get the time
So in light of all this talk about about intent and meditation (I know it's such a scary word) I would like to start off with a simple yet valuable pose for pose of the month:
Easy Seated Pose- to get into easy seated, sit down and cross your legs and place your hands on your knees. If sitting cross legged is not comfortable for you, extend your legs out in front of you with your knees slightly bent and hands relaxed on your thighs. Now imagine a string is attached to the top of your head and being pulled upward lengthening your spine. Your shoulders, knees and hips are relaxed. Now here's the tricky part... Breathe... Nice deep breathes. Fill those lungs of yours, they will love you for it. Start off slow with maybe 10-20 breathes and work your way up to longer if like you'd like. But remember if you aren't used to deep breathing you may get light headed and if that's the case, shorten your breathe just a little or take small breaks in between.
Fun little fact: Did you know the average person only uses 1/3 of their lung capacity? It's no wonder we love the feeling of a good sigh!
Let's move on to include a little bit of nourishment, shall we? Who doesn't love a good yummy recipe.

Now I love Roasted Vegetables so let's start of with these bad boys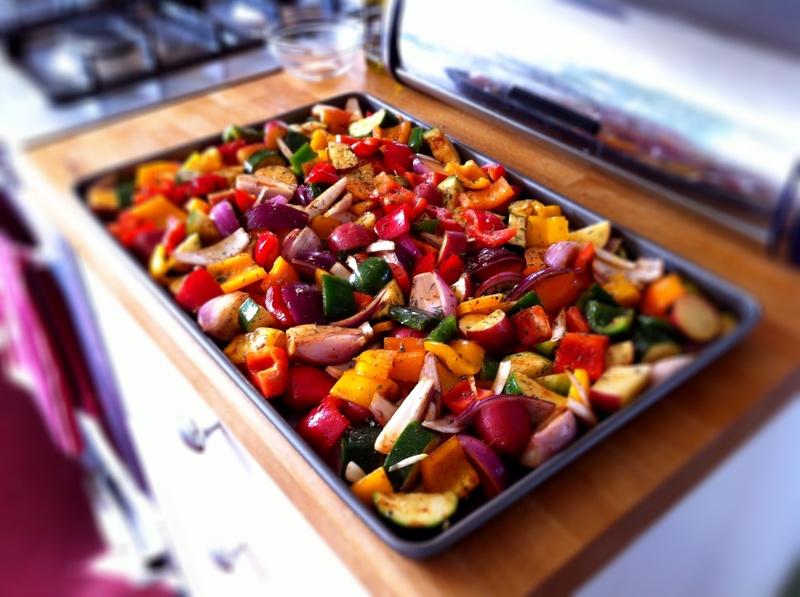 Now doesn't that look delish? (insert drooling here)
I could eat a huge bowl of just these, but the rest of my family frown's upon it and I'm forced to include some protein on their plates *sigh*
These are so simple and so yummy and you can use all your favorite veggies. Mine are as follows
3 Carrots peeled & chopped

3 Parsnips peeled & chopped
1 small bag of small potatoes chopped (I leave the skin on)
1 Red Pepper chopped
1 Onion chopped or sliced whatever you prefer
1 butternut squash chopped
Pre heat oven to 425 degrees. Toss them all together in a bowl with about 1-2 tbs olive oil and salt and pepper to taste. Bake 45min-1 hr.
Now since my family likes their protein, I dice up some chicken breast and add it to the pan to soak up all those amazing veggie flavors.
Did you make it all the way to the end? Congrats! You're awesome and amazing and make sure you tell yourself that. You deserve it!
Here's to hoping I see you soon at The Yoga Cottage
XO Shannon Hawman
/